Please refer to the venue floor plan in the conference pocket programme. We hope that this will assist you in navigating your way around the venue.
Should you have any problems or require additional information, please contact any conference staff or volunteers or visit our General Information Desk, which is located in the Registration Area on the ground floor.
Certificates of attendance
Online certificates will be dispatched starting on Saturday, 10th December, 2023.
Community Village
The community village is an integral and vibrant element of the ICASA programme. Located on the ground floor (see venue map) the community village is open to both registered conference participants and the general public.
Another activity of the community village is the NGO exhibition space. Delegates and visitors are encouraged and invited to visit the Village exhibition areas and the networking zones.
The official opening ceremony of the community village will commence at 14:00 GMT on Monday, 4th December, 2023 at the Community Village Grounds. Please see the community village programme in your conference bag for the full sessions, performances and activities schedule.
Community Village Opening Hours
| Date | Time |
| --- | --- |
| Tuesday, 5th December 2023 | 10:30 – 17:00 |
| Wednesday, 6th December 2023 | 10:30 – 17:00 |
| Thursday, 7th December 2023 | 10:30 – 17:00 |
| Friday, 8th December 2023 | 10:30 – 17:00 |
Conference Registration
The registration area is on the ground floor and is clearly marked on the venue floor plan.
Registration Opening Hours:
| Date | Time |
| --- | --- |
| Sunday, 3rd December 2023 | 12:30 – 17:00 |
| Monday, 4th December 2023 | 7:00 – 16:00 |
| Tuesday, 5th December 2023 | 7:00 – 17:00 |
| Wednesday, 6th December 2023 | 7:00 – 17:00 |
| Thursday, 7th December 2023 | 7:00 – 17:00 |
| Friday, 8th December 2023 | 7:00 – 17:00 |
| Saturday, 9th December 2023 | 7:00 – 12:15 |
Conference delegates must always wear their badges, nose masks/face shields and hand sanitisers to access the session rooms and exhibition area. Conference volunteers and the venue security will not allow anyone to enter the conference venue without a valid badge, nose mask/face shield and hand sanitiser. If you have lost your badge, please contact the registration desk. Replacement badges will be issued at a cost of $60 each (including VAT).
Accompanying adult participants are permitted access to the opening and closing ceremonies. Only children (under 18) registered as accompanying persons will be admitted into all conference sessions.
Poster Exhibition
The Exhibition booths are located in the Exhibition Hall on the ground floor, offering delegates a chance for dynamic interaction with exhibitors. There are plenty of exciting exhibitors at ICASA and delegates are encouraged to visit all stands to discover the latest news from our supporting organisations and pharmaceutical firms. Some exhibitors will give demonstrations in the Exhibition Hall which promises to add an extra level of interest to conference participation. All the stands are marked on the dedicated Exhibition Map to make each booth easy to find.
Internet/WiFi
The Conference Wireless internet is available in all conference venues. Please visit the General Information Desk if you need help accessing the internet with your device.
Interpretation (EN/FR)
The official languages of the conference are English and French. Simultaneous interpretation from English to French and from French to English will be provided in all session rooms.
If you would want to use the simultaneous interpretation service, collect a headset before the session immediately outside the relevant session room. Delegates are required to deposit a valid passport or US$100 in cash when collecting a headset. This will be returned when the headset is returned. Delegates will be charged US$100 for lost, misplaced or damaged headsets.
Please obtain headsets during the break before the session to avoid a long wait. Please return the headset equipment at the end of each session to ensure they can be recharged for use the following day.
Media Centre
Media registration must be carried out at the dedicated Media Registration Desk in the Registration Area in the Tennis Court Area. Accredited media personnel will have full access to the Media Centre located in the VIP Lounge Area of the Hotel. The Media Centre will be open daily from Tuesday, 5th December until Friday, 8th December, from 07:00 AM to 19:00 PM. The Media Centre will be equipped with computers and printers for use by accredited journalists. Information on press conferences and briefings will be posted in the Media Centre with updated dates and times.
Journalists wishing to secure interviews with conference speakers will be assisted in the Media Centre.
More information on the Media Centre and press conference facilities will be available in the Media Guide which will be issued to all journalists accredited for the conference.
Participation Guidelines / Code of Conduct
The conference acknowledges the freedom of expression of speakers, participants and exhibitors. It does, however, subscribe to the widely-held principles associated with exercising such freedom of expression, i.e. that such expression may not lead to any harm or prejudice to any person or damages to any property. If anyone abuses these principles, host country law applies.
Positive Lounge
The Positive Lounge is provided exclusively for people living with HIV as a place to rest, refresh, network, and take medications.
Presenters, Speakers, Chairs and Facilitators
The Speakers' Room (The Faculty Room) is located at Msasa 1 & 2 (please refer to the venue floor plan).
All speakers, chairpersons, moderators, facilitators and oral presenters are requested to report to the Faculty Room immediately after registration to sign consent forms, confirm their presentation date, time and venue and receive specific security information relevant to their session.
The Faculty Room is THE ONLY PLACE where slide presentations can be uploaded onto the system. All presenters must do so at least six hours before their session. The organisers cannot guarantee projection in the session room if presenters upload their slides later.
Presenters cannot upload their presentations in the session room.
Please note: Speakers who do not show up 6 hours before their presentation will be replaced.
Faculty Opening Hours
| Date | Time |
| --- | --- |
| Monday, 4th December 2023 | 10:00 – 17:00 |
| Tuesday, 5th December 2023 | 7:00 – 17:00 |
| Wednesday, 6th December 2023 | 7:00 – 17:00 |
| Thursday, 7th December 2023 | 7:00 – 17:00 |
| Friday, 8th December 2023 | 7:00 – 17:00 |
| Saturday, 9th December 2023 | 7:00 – 12:15 |
Poster Exhibition
The Poster Exhibition is located on the parking esplanade in the main exhibition hall. Please refer to the poster exhibition map for an overview of the colour-coded Track Areas. All boards are sequentially numbered to help presenters and viewers find their desired poster. There are four poster sessions from Tuesday to Friday:
Visiting Hours of Posted Abstracts:
11.30 - 11.50
15.50 - 16.10
Instructions for Poster Presenters:
The posters will be displayed for one day. During breaks, the presenters must stand by their posters, answer questions and provide further information on their study results.
The Poster Exhibition will take place within the Exhibition area at the Rainbow Towers Hotel & Conference Centre. Your poster board will be marked with your new abstract number. All authors are responsible for mounting and removing their own posters.
Poster mounting and removal time
Your paper poster should be mounted and removed at the following times:
Poster should be mounted between 07:30 - 08:30
Poster must be removed at 18:30
When removing your poster, please make sure to remove all poster-mounting material from the board. The Conference staff will remove all posters not taken down on time. The Conference organizers will not take any responsibility for posters or other materials left in the Poster Exhibition area.
Poster Exhibition area.
Presenting authors should stand by their poster during the following break times for one day only. Please see the break time details below:
Times
11.30 - 11.50
15.50 - 16.10
Dates
| Date | Description |
| --- | --- |
| Tuesday, 5th December 2023 | (if your poster number begins with TU) |
| Wednesday, 6th December 2023 | (if your poster number begins with WE) |
| Thursday, 7th December 2023 | (if your poster number begins with THU) |
| Friday, 8th December 20233 | (if your poster number begins with FRI) |
Therefore, we kindly ask you to start preparing a poster to be displayed at the Poster Exhibition.
Poster Measurements – In-Person
The maximum size of your poster should be 90 cm (width) x 120 cm (height), portrait style. Your poster number will be displayed at the top of your poster board.
Poster Display
The poster board comprises a single smooth surface mounted on an aluminium frame, offering support and featuring a whiteboard design. Instead, please use double-sided tape to affix your posters. Ensure that you bring your own materials, such as double-sided tape, and prepare your poster to fit the standard PORTRAIT orientation A0 format. Remember that your poster's dimensions should not exceed 900 mm in width by 1200 mm in height.
Portrait Vertical Orientation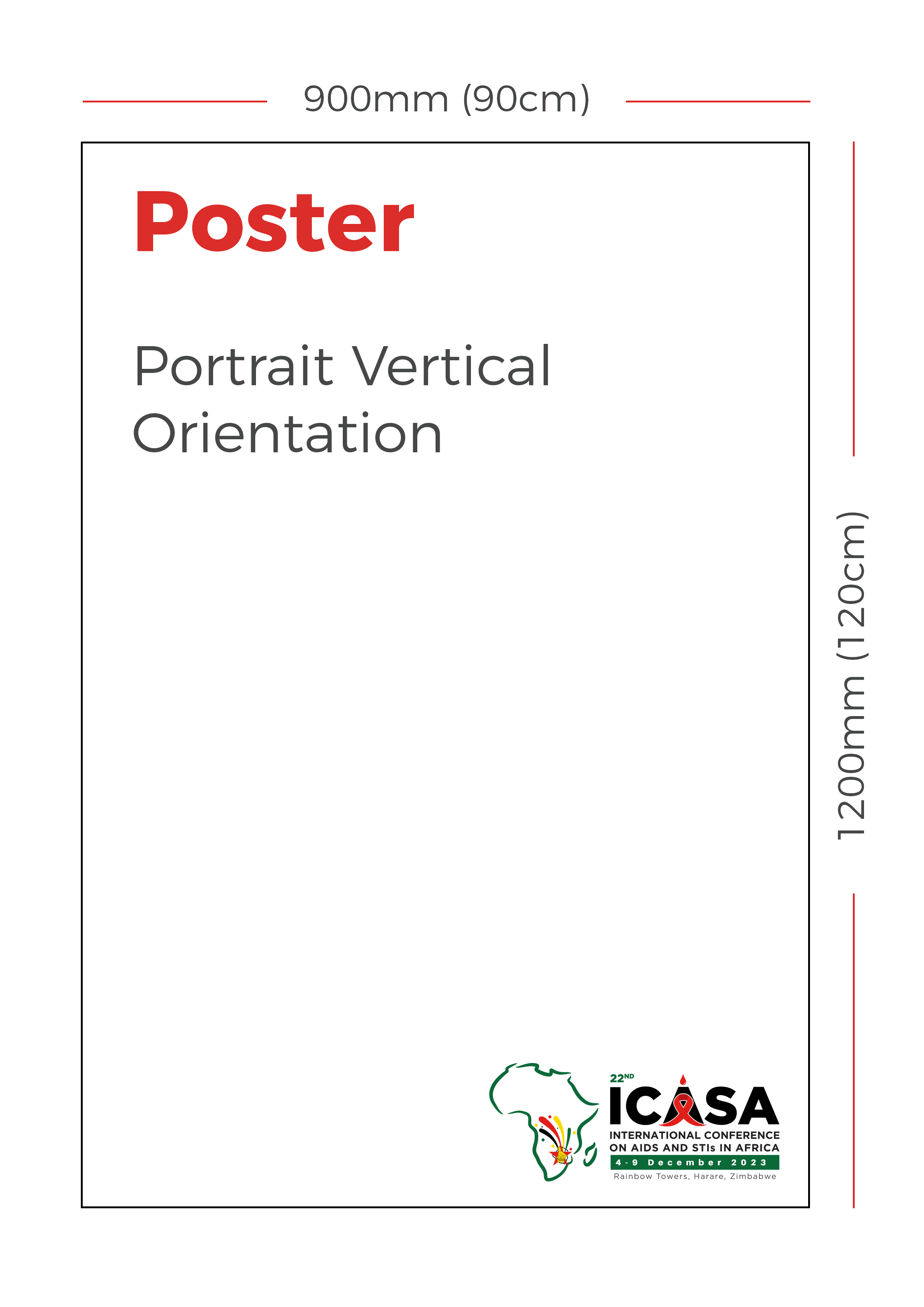 VIRTUAL POSTER SPECIFICATION REQUIREMENTS
Please create your e-poster in PDF format, following the A4 size guidelines. You can download the ICASA 2023 E-Poster Design Specifications by clicking here. Make sure to include your updated Abstract Number.
You can view a sample e-poster here for reference.
The deadline for submitting the required information is 31st October 2023.
For further inquiries, please contact us at abstract@saafrica.org.