The posters will be displayed for one day. During breaks, the presenters must stand by their posters, answer questions and provide further information on their study results.
The Poster Exhibition will take place within the Exhibition area at the Rainbow Towers Hotel & Conference Centre. Your poster board will be marked with your new abstract number. All authors are responsible for mounting and removing their own posters.
Poster mounting and removal time
Your paper poster should be mounted and removed at the following times:
Poster should be mounted between 07:30 - 08:30
Poster must be removed at 18:30
When removing your poster, please make sure to remove all poster-mounting material from the board. The Conference staff will remove all posters not taken down on time. The Conference organizers will not take any responsibility for posters or other materials left in the Poster Exhibition area.
Poster Exhibition area.
Presenting authors should stand by their poster during the following break times for one day only. Please see the break time details below:
Times
10:15 - 10:45
12:15 - 12:45
14:15 - 14:45
16:15 - 16:45
Dates
| Date | Description |
| --- | --- |
| Tuesday, 5th December 2023 | (if your poster number begins with TU) |
| Wednesday, 6th December 2023 | (if your poster number begins with WE) |
| Thursday, 7th December 2023 | (if your poster number begins with THU) |
| Friday, 8th December 20233 | (if your poster number begins with FRI) |
Therefore, we kindly ask you to start preparing a poster to be displayed at the Poster Exhibition.
Poster Measurements – In-Person
The maximum size of your poster should be 90 cm (width) x 120 cm (height), portrait style. Your poster number will be displayed at the top of your poster board.
Poster Display
The poster board comprises a single smooth surface mounted on an aluminium frame, offering support and featuring a whiteboard design. Instead, please use double-sided tape to affix your posters. Ensure that you bring your own materials, such as double-sided tape, and prepare your poster to fit the standard PORTRAIT orientation A0 format. Remember that your poster's dimensions should not exceed 900 mm in width by 1200 mm in height.
Portrait Vertical Orientation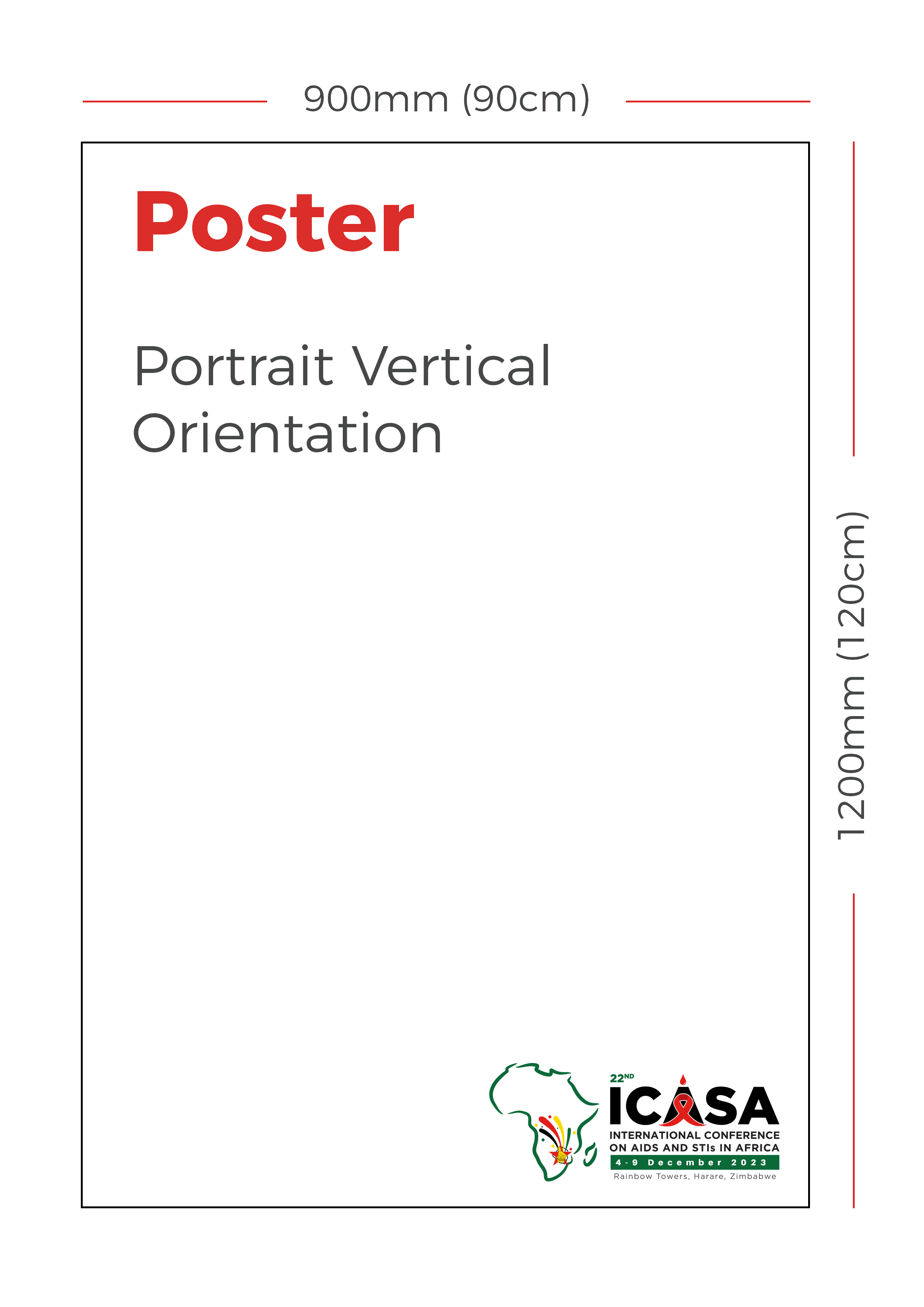 VIRTUAL POSTER SPECIFICATION REQUIREMENTS
Please create your e-poster in PDF format, following the A4 size guidelines. You can download the ICASA 2023 E-Poster Design Specifications by clicking here. Make sure to include your updated Abstract Number.
You can view a sample e-poster here for reference.
The deadline for submitting the required information is 31st October 2023.
For further inquiries, please contact us at abstract@saafrica.org.